Pickers Patch is held a few times a year in Victoria, Texas. It's wayyy off any of the main roads, but it's totally worth the drive.
Unfortunately, last time I was there (the last time I was able to go before this got published), it was raining, so unfortunately, I didn't get any of my own pictures. Even if I had, there were so few vendors and customers (due to the weather) that it wouldn't have done the show justice. So, I'm going to pull some images from online to hopefully set the scene for us!
The show takes place on both Saturday and Sunday and is normally packed with both vendors and junkers alike. The site is set up in the yards and barns next to a home, which makes it feel so, well, homey and welcoming.
In my experience, there are of course many antique dealers. If you're looking for furniture, knick knacks, dishes, or whatever, you're sure to find something here. There are also craftsman: furniture, decor, t-shirts, and one of my favorites, goats' milk soap.
Every show has something a little different, so it is definitely worth checking out more than once!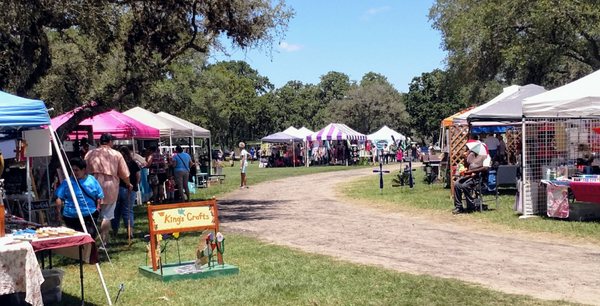 As I mentioned before, it's in Victoria, one of the oldest towns in Texas. If Pickers Patch isn't quite your thing, there's a zoo, a mall, a Cinemark, a great putt-putt course, and historic downtown, as well as many restaurants and events that you could go to to liven up your weekend!
Hope to see y'all there sometime this year!
Photos used in this post are not my own, and I in no way have any intention of claiming them as my own or altering them in any way to serve my own purposes. I was in need of photos to properly get this post in good shape. The photos were found via Google Image search from the following sources:
https://www.yelp.com/biz/the-pickers-patch-market-days-victoria